Berlin Klassik Beach Tour
Presented by:
David
Category:
Festivals
Price:
$20
Date:
August 10, 2019 – August 11, 2019
Time:
10:00 AM – 5:00 PM
Address:
70292 Grand Bend Line, Grand Bend, Ontario N0M 1T0
Website:
https://berlinklassik.ca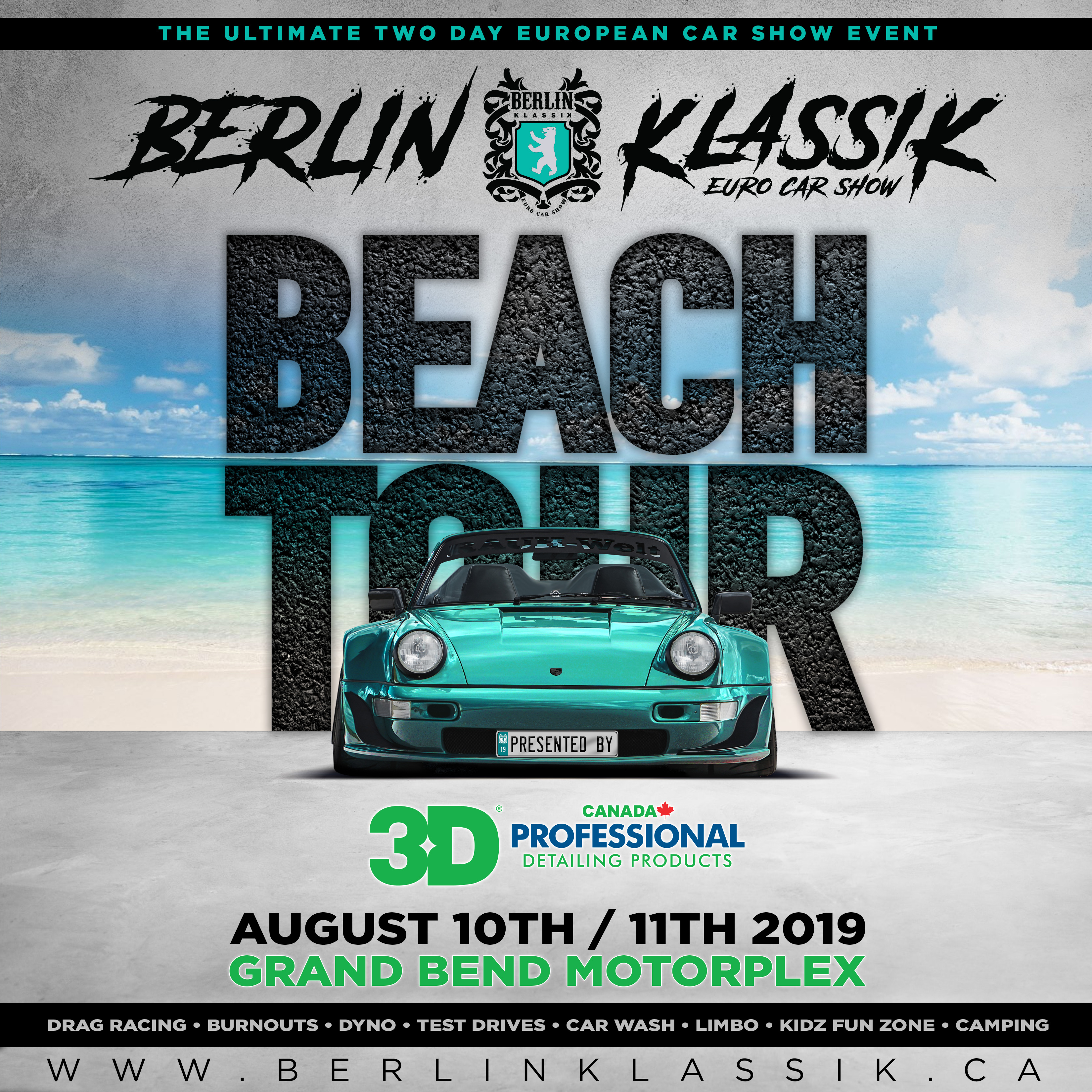 One of the most anticipated European car shows of the year in Canada!
Berlin Klassik 2019 ~ Beach Tour
Berlin Klassik is more than just your typical car show, IT'S A LIFESTYLE!
We offer all car craving enthusiasts a full weekend event that provides an exciting atmosphere nothing like any other event in this region.
Mark your calendar as this will be an unforgettable event!
For more information regarding the show, please visit our website at http://www.berlinklassik.ca
Event Schedule
The Show 'n' Shine attracts a broad array of top-quality show cars, from full custom to classic.
Saturday August 10th 2019, The BERLIN KLASSIK team is kicking off the Saturday by offering the community even more entertainment and more spectacular ways for the car community to meet one another & talk about car related news…. Saturday will be filled with onsite Car Detailing, Drag Racing, Performance Tuning & Dyno, Limbo, Test Drives, Evening Entertainment with live DJ's & Camping Rentals.
** PRE-JUDGING SATURDAY **
Gates Open for Vehicle Entries – 9am – 11am
Event Times – 11am – 5pm
Sunday August 11th 2019, Competition day for the Berlin Klassik Car Show as we welcome all European car enthusiasts to attend both days to take advantage of spectacular entertainment with the latest and greatest performance & OEM products from Volkswagen, Audi, Porsche, BMW, Mercedes, Volvo and many more vendors. We have expanded our show grounds once again to allow for future expansion. Wait until you see what we have in store for this event!
Gates Open for Vehicle Entries – 9am – 11am
Show Times – 10am – 5pm
Rain or shine, the goal of the Berlin Klassik Car Show is to attract enthusiasts, both local and from abroad, to come out and see what European car enthusiasts have to offer. It is also a great way to end an amazing show season.
Social Media Links
Get Directions
70292 Grand Bend Line
Other Events
No Similar Events Found